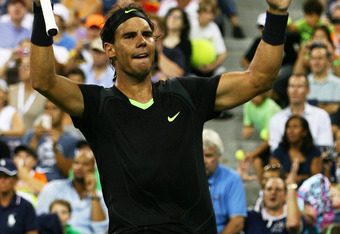 SATIRE —
Roger Federer
and Rafael Nadal have reached a secret deal to trade clothing styles for each of their respective dominating Grand Slams.
Nadal has been sporting the same outfit that Federer wore three years ago, being dubbed "Darth Federer" during the evening matches.
Nadal was not coy for his reasoning. "I nid every chance to win US Open. If I look like Rog, I will win like heem."
On the other end of the deal, Federer is rumored to be planning to sport the pirate attire complete with wife beater and Capri shorts for the French Open. He is also reported to have been working on his loud groans when returning service. "If this does not work, I am going to build a huge clay castle on the side of the court and bury some unpleasant treasure."
Other players in negotiation for trade in style is Novak Djokovic and Marcos Baghdatis. Djokovic is planning on growing his hair long and sporting a kerchief (Baghdatis-style) complete with a shiny crucifix. He is now adopting the habit of kissing the ground wherever he goes.
For his part, Baghdatis is planning to get a buzz cut and go shirtless at the conclusion of his matches. He has also been working on his Berdych and Soderling impersonations.
World No. 4 Andy Murray was perplexed. "I cannot understand their thinking. Did Rafa's sponsors run out of the pink colour? He's a good friend of mine so hopefully he will take my advice to stick with something different than the black. Personally, I would go after the Federer 2005 US Open outfit. Just one thing stopping me though—my pride for being original."