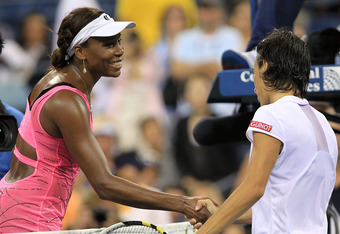 SATIRE — One of the most compelling and dramatic matches at the US Open this year was the Williams-Schiavone match. It is now available in fine print for all to enjoy. Upon special request, it can even be ordered in braille for the hearing impaired.
First Set Highlights
Williams
: Aargh!
Schiavone:
Aw hee!
Williams:
Aargh!
Schiavone:
Aw hee!
Second Set Highlights
Schiavone:
AW HEE!
Williams:
AARGH!
Schiavone:
AW HEE!
Commentator: That is great tennis. The crowd is even into it. They are helping either player by softly chanting AARGH or AW HEE when that particular player is about to hit the ball.
In a completely unrelated incident, a 47-year-old man staying at a seedy hotel in the Bronx, phoned the police when he kept hearing his neighbor's television up to loud. He described what he thought was a Nadal-Sharapova tennis match.
Raphael Nadal:
UNGHHHH!
Maria Sharapova:
APPOOO!
Rafael Nadal:
UNGHHHHH!
Maria Sharapova:
APPOOO!
The neighbor continued to notice that the tennis shots must have gotten faster because each player was picking up speed and volume. Strangely, it all seemed to subside with a large UNGGGHHHAPPPOOOOOOOO!
The police arrived and all were completely surprised that the real Rafael Nadal and Maria Sharapova came out of the room holding lit cigarettes. Upon going their separate ways Sharapova gave a Nadal a little smack on the rear and cooed a small "appooo."
No charges were laid.
http://www.youtube.com/watch?v=iTmCmGFv-nw&feature=player_embedded