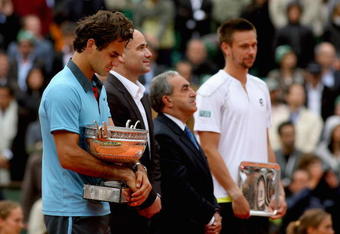 SATIRE — After all the media covering the French Open had packed up to leave,
Roger Federer
was still yet to leave the stadium.
He had fought hard and won the French Open but another matter was still unsettled. He chased after the small Frenchman who he had shared the podium.
The little man looked over his shoulders and saw a determined Roger Federer chasing after him.
"Oh la-la!" the man yelled before his feet went into action. He ran around the stadium with Roger in hot pursuit. They both entered the deserted clay court and the man was gaining speed.
Roger's father tossed him a racket and his wife Mirka threw down a tennis ball. Federer served a heavy topspin shot that beaned the back of the running man's head. He went down like a ton of bricks.
Federer was on him and heaved him by his lapels. "Where is my cheque? Where is the money?", he asked.
"Je ne sais pas, Monsieur Federer. I don't have it!" the man said in a state of panic. Federer was unconvinced.
"Do you think I was born yesterday. I have played in many of these slams finals and there is always a presentation of a cheque." He tightened the lapels, constricting the man's breathing.
"Ok, Ok let me get your cheque.", he said brushing the clay off of his suit. "You, Swiss really are frugal!" He searched through his clothes and produced a soggy cheque. "It is wet from the rain."
Federer examined the cheque. "This cheque is dated May 10th, 2009 and it is made out to Rafael Nadal!" He glared down at the short Frenchman.
"Please monsieur, how were we to know that you were going to win? Nadal always wins this tournament, n'est ce pas?"
Roger Federer scolded him with his racket. "I want that cheque made out and sent to me immediately. Do you understand? If I don't get it right away, the French Open will become the Swiss Open."
"Oui Monsieur!" said the man as he started to leave. Federer was not finished.
"Wait!!", he shouted to the man. "Where is my car?"
The man embarrassingly took the keys out of his pocket. "Ha-ha, I almost forgot. Your car is parked in Section D on the north side. It is a stunning 2009 Peugot."
As the Frenchman made off, Roger's father joined Roger. "Did you get the money?", He asked. Roger replied, "No, but he is going to send it to me otherwise we will buy out the French Open and bring it to Switzerland."
Robert Federer patted his son on the back. "Great job and great day, son!"
Roger laughed. "Not only that, I have a 2009 Peugot waiting for me at Section D on the north side.", he said flailing the car keys.
His father looked grimaced. "Son, I know this stadium well. The north side has no Section D."
Roger looked at the direction in which the Frenchman had gone and immediately bolted his legs into a sprinting action.
"Hey you bl**dy Frenchman!! Get back here!!!!