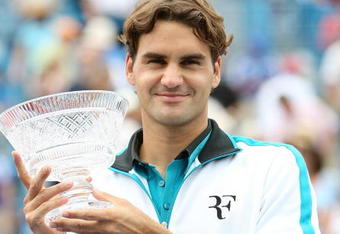 (Photo by Nick Laham/Getty Images)
SATIRE — Cincinnati organizer Keith Levitt was frantic. He had worked hard and long to make sure that the Cincinnati Masters went off without a hitch. He knew all eyes would definitely be on the city especially during the men's tour.
Levitt tried to breathe a sigh of relief but he had that nagging feeling that he forgot something.
That something was going wallop him with about a half an hour remaining in the final between
Roger Federer
and Novak Djokovic.
The realization made his eyes widen with horror. With one heart-attack induced gasp, he screamed.
"SH*T!!!! THE F**CK'N TROPHIES!!!
He yelled for his assistant Arnie "Goonie" Gobson. Gobson was a slow-witted nephew that Levitt promised to take under his wing.
He smacked Arnie's hand with $150. "Get over to any trophy store you can and get something that involves a tennis theme. You have to get back here before the match is over so...MOVE!"
Before Arnie could ask any questions, Uncle Keith pushed him out the door. Arnie did not know of any trophy stores and if he did, this was Sunday. So he went to the only store that he knew could help him out.
He went to Wal-Mart.
He asked almost every associate where he could get a pair of trophies, but no one had any idea of what he wanted.
Finally, one associate pointed out that there were some lovely crystal nut and fruit bowls on sale. They were $25 each and $45 for the pair. Arnie bought both and raced back towards the stadium
He presented his purchases to his uncle who then turned white.
"WHAT THE F*** DID YOU DO! I OUGHT TO SMASH THIS OVER YOUR ....OH SHOOT, Roger has won...give me that!!!"
Levitt raced over and placed the two bowls on the table just as the presentation was about to start. He started to sweat and if he had eaten anything for lunch, he was sure he would have crapped it by now.
Amazingly, the presentation went off without a hitch. Levitt did notice the Walmart price sticker on the bottom of each trophy but was not worried as both players had an abundance of trophies not to notice.
Gobson was about to leave when his uncle called for him. Expecting to be rewarded for his efforts, he was surprised when his uncle asked for his change.
Levitt smiled as his nephew handed over the money. "Great. Next year we're going to Price Choppers!"